Bananas are one of nature's super foods and provide a host of benefits that can promote general health.
This fruit is closely associated with the mineral potassium which strengthens the cardiovascular system and can lower blood pressure.
Potassium is an electrolyte that manages fluids in the body and can treat dehydration.
Bananas also contain magnesium which benefits various processes within the body, including gene maintenance and protein production from amino acids.
Bananas do not only have a generous serving of vitamins, minerals, and amino acids but can provide a low-fat and natural sugar alternative to regular sweets.
The fruit's smooth texture can satisfy a craving for high-fat foods and is often used in recipes as a replacement for oil and eggs.
Potassium has been shown in studies to benefit the heart, and banana is one of nature's richest sources of this mineral.
Potassium is responsible for powering the muscles that squeeze blood through the heart and can regulate heartbeat and cardiac functioning.
Bananas can also help lower blood pressure, and it was found that those who consumed more potassium saw a lower systolic blood pressure numbers of at least 10 points.
Eating bananas satisfies cravings for high-fat foods, and provide a healthy alternative for heart health.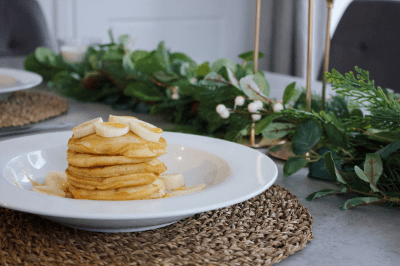 2 cups all-purpose flour
¼ cup brown sugar
2 tsp baking powder
1 tsp baking soda
1 tsp salt
2 bananas, mashed
2 eggs
1½ cups milk
1 tsp vanilla
2 bananas, sliced butter for cooking
In a medium bowl, add the flour, brown sugar, baking powder, soda, and salt. Mix thoroughly with a spoon. In another bowl, add the mashed bananas (or just mash them in the bowl), eggs, milk, and vanilla, then mix.
Add the dry mixture from the other bowl into the second bowl. Gently stir it with a spoon until everything just comes together. Tender pancakes come from not over-mixing the batter. If there are still a few pockets of flour, don't worry about it.
Let the mixture sit for 10 to 15 minutes. Place a non-stick or cast-iron pan on medium heat.
Once it's hot, melt a small amount of butter, about a ½ teaspoon, then ladle some pancake batter into the center of the pan. You can make your pancakes as large or small as you like. A normal amount is about 1/4 to 1/3 cup of batter. If it's your first time making pancakes, make them smaller: they'll be easier to flip.
As soon as the batter is in the pan, place 3 to 4 banana slices atop of the uncooked side of the pancake. Once the edges of the pancake start to dry up and you can see the middle start to bubble, flip the pancake over.
Cook until it is browned on both sides. Stack the finished pancake on a plate in a warm oven and repeat the above process until you run out of batter.
Serve hot, with butter and syrup
How To Make Perfect Chocolate Chip Banana Bread Every Time | Delish Insanely Easy
Video Recipe for Banana Bread
INGREDIENTS
2 c. all-purpose flour
1 tsp. baking soda
1/2 tsp. kosher salt
1/2 c. (1 stick) unsalted butter, melted
1 c. granulated sugar
1 large egg plus 1 egg yolk
1/4 c. sour cream
1 tsp. vanilla extract
3 ripe bananas, mashed
1/2 c. semi-sweet chocolate chips
1/2 c. chopped toasted walnuts
DIRECTIONS
Preheat oven to 350º. Line a loaf pan with parchment paper and grease with cooking spray.
In a large bowl, whisk together flour, baking soda, and salt.
In another large bowl, mix together melted butter, sugar, egg and egg yolk, sour cream, and vanilla. Add mashed bananas and stir until combined. Gradually add dry ingredients to wet ingredients until just combined. 
Fold in chocolate chips and walnuts and transfer to prepared loaf pan.
Bake until a toothpick comes out clean, about 1 hour. Let cool 10 minutes in the pan, then turn out onto a cooling rack to cool completely.
4 Desserts To Make With Ripe Bananas
BANANA FRITTERS
Servings: 4-8
INGREDIENTS
2 ripe bananas, peeled
1 cup pancake mix
½ teaspoon cinnamon
¾ cup milk Oil for frying
Powdered sugar to serve
PREPARATION
1. In a mixing bowl, use a fork to smash the bananas
2. Add in pancake mix, cinnamon & milk. Whisk together until combined.
3. Fry in oil. About 1 tablespoon per fritter.
4. Cook for about 2-3 minutes until they are golden brown and cooked through the middle.
5. Sprinkle powdered sugar Inspired
CHOCOLATE BANANA BRAID
Serves: 4-6
INGREDIENTS
2 ripe bananas, peeled and sliced
1 sheet puff pastry, thawed
¼ cup chocolate hazelnut spread
1 egg, beaten
PREPARATION
1. Preheat oven to 400°F (220°C)
2. Unfold the puff pastry. Spread the chocolate hazelnut spread onto the middle third.
3. Arrange the sliced bananas on top of the spread in a single layer.
4. Bananas may slightly overlap.
5. Cut out a triangle of the top right corner of the pastry. Repeat on the other side.
6. Cut diagonal slits along both sides of the pastry. Each will be around 1" thick.
7. Fold over the top piece of dough to partially cover the top row of bananas.
8. Alternating both sides, fold the strips of pastry over the bananas, mimicking a braid pattern.
9. Trim the excess dough on the sides, and fold over the bottom flap.
10. Brush the top of the braided pastry with the beaten egg. Transfer to a parchment lined baking sheet for and bake 15 minutes or until the pastry is golden brown. 11. Allow resting for 10 minutes before slicing.
BANANA PUDDING
Servings: 4
INGREDIENTS
2 ripe bananas, peeled
3 egg yolks
⅓ cup of sugar
3 tablespoons cornstarch
1 teaspoon vanilla
2 cups of milk
To serve Vanilla wafers
Whipped cream
PREPARATION
1. Place the bananas, egg yolks, sugar, cornstarch, vanilla, and milk into a blender and blitz until smooth.
2. Transfer mixture to a saucepan and cook over medium heat until thick stir constantly for about 8-10 minutes.
3. Pour mixture into a heat safe bowl, cover and chill for at least 4 hours
4. To serve, scoop a few spoonfuls of pudding into a serving glass.
5. Add one layer of vanilla wafers, then whipped cream. Repeat. Serve or allow to sit in the fridge for up to 4 hours.
PEANUT BUTTER BANANA BROWNIES
Servings: 8-10
INGREDIENTS
2 ripe bananas
1 cup of sugar
½ cup, plus 1 tablespoon unsalted butter, melted
1 teaspoon vanilla extract
¾ cup flour
¼ cup, plus 1 tablespoon cocoa powder
⅛ teaspoon salt
½ cup smooth peanut butter
PREPARATION
1. Preheat oven to 350°F (180°C).
2. In a bowl, use a fork to mash the bananas. Add the sugar, ½ cup of butter, and vanilla, and whisk until combined. Add the flour, salt, and cocoa powder, and whisk until fully incorporated.
3. Use the remaining 1 tablespoon of butter to grease a 9x9-inch baking tray.
4. Use the remaining 1 tablespoon of cocoa powder to dust every side of the baking tray.
5. Pour batter into prepared baking dish.
6. Use a spoon to add dollops of peanut butter on top of the batter.
7. Use a butter knife to swirl the peanut butter into the brownie batter.
8. Bake for 25-30 minutes, until center no longer jiggles when the pan is shaken.
9. Allow brownies to cool completely before cutting.