Christmas is a Christian holiday honoring the birth of Jesus, has evolved into a worldwide religious and secular celebration, incorporating many pre-Christian and pagan traditions into the festivities.
It can mean many thing to each of us so below is information all about The Season.
For myself, Christmas has many feelings and memories attached to it personally. More even with business, my Keywebco Network and Stores, due to product and subjects of discussion changes based on the seasons.
My best advice is, Don't Try And Do Everything!
If you are responsible for cooking and hosting the Christmas Day activities, then don't take it all upon yourself. Why not ask other family members to bring different parts of the meal, such as snacks, salads or desserts – don't be afraid to ask for help. You could even bring in the kids to help out. Make sure you have some time for YOU!
Christmas should be fun but if you find that previous years have not been enjoyable then consider doing something about it – try something different. Although – we all know how stressful preparing for a holiday can be!
As a rather fact and data-based person I wanted to share some information online about Christmas.
Christmas Facts
Each year, 30-35 million real Christmas trees are sold in the United States alone. There are 21,000 Christmas tree growers in the United States, and trees usually grow for about 15 years before they are sold.
Today, in the Greek and Russian orthodox churches, Christmas is celebrated 13 to 14 days after the 25th. This is because Western churches use the Gregorian Calendar, while Eastern Churches use the Julian Calendar.
In the Middle Ages, Christmas celebrations were rowdy and raucous—a lot like today's Mardi Gras parties.
When Christmas was canceled: From 1659 to 1681, the celebration of Christmas was outlawed in Boston, and law-breakers were fined five shillings.
Christmas was declared a federal holiday in the United States on June 26, 1870.
The first eggnog made in the United States was consumed in Captain John Smith's 1607 Jamestown settlement.
Poinsettia plants are named after Joel R. Poinsett, an American minister to Mexico, who brought the red-and-green plant from Mexico to America in 1828.
The Salvation Army has been sending Santa Claus-clad donation collectors into the streets since the 1890s.
Rudolph, "the most famous reindeer of all," was the product of Robert L. May's imagination in 1939. The copywriter wrote a poem about the reindeer to help lure customers into the Montgomery Ward department store.
Construction workers started the Rockefeller Center Christmas tree tradition in 1931.
In 1822, Episcopal minister Clement Clarke Moore wrote a Christmas poem called "An Account of a Visit from St. Nicholas," more popularly known today by it's first line: "'Twas The Night Before Christmas." The poem depicted Santa Claus as a jolly man who flies from home to home on a sled driven by reindeer to deliver toys.
The iconic version of Santa Claus as a jolly man in red with a white beard and a sack of toys was immortalized in 1881, when political cartoonist Thomas Nast drew on Moore's poem to create the image of Old Saint Nick we know today.
A visit from St. Nicholas Narration For Christmas "The Night Before Christmas
A Visit from St. Nicholas BY CLEMENT CLARKE MOORE 'Twas the night before Christmas'
Source: The Random House Book of Poetry for Children (Random House Inc., 1983)
Christmas is celebrated on December 25 and is both a sacred religious holiday and a worldwide cultural and commercial phenomenon. For two millennia, people around the world have been observing it with traditions and practices that are both religious and secular in nature. Christians celebrate Christmas Day as the anniversary of the birth of Jesus of Nazareth, a spiritual leader whose teachings form the basis of their religion. Popular customs include exchanging gifts, decorating Christmas trees, attending church, sharing meals with family and friends and, of course, waiting for Santa Claus to arrive. December 25–Christmas Day–has been a federal holiday in the United States since 1870.
Is Christmas Really the Day Jesus Was Born?
In the early years of Christianity, Easter was the main holiday; the birth of Jesus was not celebrated. In the fourth century, church officials decided to institute the birth of Jesus as a holiday. Unfortunately, the Bible does not mention date for his birth (a fact Puritans later pointed out in order to deny the legitimacy of the celebration). Although some evidence suggests that his birth may have occurred in the spring (why would shepherds be herding in the middle of winter?), Pope Julius I chose December 25. It is commonly believed that the church chose this date in an effort to adopt and absorb the traditions of the pagan Saturnalia festival. First called the Feast of the Nativity, the custom spread to Egypt by 432 and to England by the end of the sixth century.
By the end of the eighth century, the celebration of Christmas had spread all the way to Scandinavia. Today, in the Greek and Russian orthodox churches, Christmas is celebrated 13 to 14 days after the 25th. This is because Western churches use the Gregorian Calendar, while Eastern Churches use the Julian Calendar, which is 13 to 14 days behind the Gregorian Calendar. Both Western and Eastern churches celebrate Epiphany or Three Kings Day 12 days after their own respective Christmases. This is the day it is believed that the three wise men finally found Jesus in the manger.
By holding Christmas at the same time as traditional winter solstice festivals, church leaders increased the chances that Christmas would be popularly embraced, but gave up the ability to dictate how it was celebrated. By the Middle Ages, Christianity had, for the most part, replaced pagan religion. On Christmas, believers attended church, then celebrated raucously in a drunken, carnival-like atmosphere similar to today's Mardi Gras. Each year, a beggar or student would be crowned the "lord of misrule" and eager celebrants played the part of his subjects. The poor would go to the houses of the rich and demand their best food and drink. If owners failed to comply, their visitors would most likely terrorize them with mischief. Christmas became the time of year when the upper classes could repay their real or imagined "debt" to society by entertaining less fortunate citizens.
After the American Revolution, English customs fell out of favor, including Christmas. In fact, Christmas wasn't declared a federal holiday until June 26, 1870.
Develop a Gift-Giving Philosophy
Normally, our first suggestion in every instance of life is to budget. And we'll get there. But before you budget, you really need to create your Christmas gift-giving philosophy.
What does giving mean to you? Is it about finding the perfect present for each special person in your life? Do you scour all the websites, all the stores, and all the sales all year long? Is it about the hunt or the look on their faces when they open the well-thought-out present?
Think about your why before you think about how you're going to pay for all those presents.
Wrap Gifts Creatively
You don't have to spend half of your December income on colorful or character-covered paper that's going to end up torn to shreds in piles on your floor Christmas morning. Get creative! Pick up some reusable bags at the dollar store, and you'll be giving a gift inside a gift. Or try wrapping presents in newspaper and topping them off with red twine. That's eco-friendly, wallet-friendly and festive.
Now back to where we started—the very best thing you can do to save money this Christmas is to budget. When you make a plan for your money and stick to it, you're setting yourself up for financial success all year long.
A Few Things To Do At Christmas
Below is the from an article which the link is below:
✧ Mail a Letter to Santa
Get some fancy paper and sparkly pens to write a letter to Santa. His mailing address is hard to forget: Santa, North Pole. If you actually want a response from Saint Nicholas, here's some instructions from USPS on how to properly write and receive a letter from Santa.
✧ Connect With an Out of Town Friend
The holiday season is the perfect time to catch up with an old friend that you haven't connected within a while.
✦ Make an Ornament
Put your creative activity hat for this Christmas bucket list idea and make your own holiday ornaments for your tree or someone elses. Most craft stores carry clear bulbs (or you can buy them here) that can be filled with an array of festive things or get even more crafty with these 30 DIY Christmas ornaments. If you are not so crafty, StayGlam has got you covered with their easy DIY ornaments.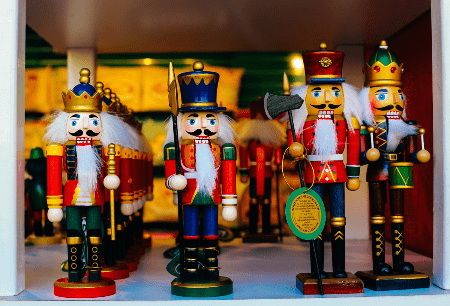 ✦ Sip on Hot Chocolate by the Fire
There's nothing quite like sipping some hot cocoa while watching a fire blazing. It's the perfect way to write your Christmas list! You can make yourself a simple Old-Fashioned Hot Chocolate or spruce it up by whipping up a Red Velvet Hot Chocolate. You can keep your cocoa warm all day in Yeti's insulated mug (they make great gifts too!).
✦ See the Nutcracker Ballet
Whether it's just on a small local stage or a big city production, a quintessential thing to do during the holidays is to escape into dreamland with the exquisite ballet performance of The Nutcracker. This classic Christmas story is centered around a young girl's Christmas Eve celebration and is a must thing to do at least once in your lifetime!
Read More From The Source Below:
Live by a List
There's a reason Santa checked his list twice, and it's not because he's absent-minded. When we go off the list, we overspend. Now, if you realize you forgot a friend—of course, you add them in! But once you've got your philosophy and budget set, don't get swept up in the Christmas spirit and start buying every snowflake-themed item you find for every person you've ever met.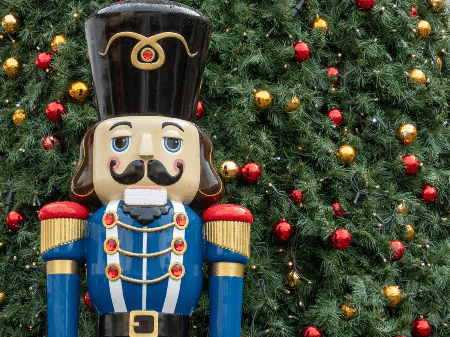 Figure out all of your meals way beforehand and delegate!
Prepare all meal items beforehand, and keep it simple!
This is not the time to try out fancy new dishes and show off. Keep it simple, and use your favorite stand-by easy dishes and holiday food. You can't go wrong with ham, baked potatoes, salad or produce tray (or both), fresh green beans, and a pie.
Prepare your breakfast meal the night before.
Skip lunch and have an early dinner.
If anyone can't wait, they can dig into the leftover goodies, but they must clean up their own mess!
Keep it simple is the lifestyle solution that you want to adopt.
This is a holiday about celebration, whatever your religious beliefs! Celebrate, and enjoy the day with your family. Develop easier traditions and ones that actually mean something!
Turkey leftovers and Thanksgiving are synonymous! A little up front planning can help you re-purpose your leftovers into different meals!