Meatballs are one of my favorite things to eat and make. Try these awesome recipes.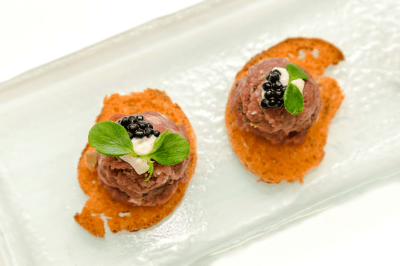 Swedish Meatballs
Ingredients
1 cup fresh breadcrumbs
2 1/3 cups low-salt beef stock, divided
4 tablespoons unsalted butter, divided
1 cup minced onion
2 thick slices bacon, minced
1 pound ground beef
3/4 pound ground pork
3 large eggs, lightly beaten
1 tablespoon kosher salt
1 1/2 teaspoons freshly ground black pepper
1 1/2 teaspoons sugar
1 teaspoon ground allspice
1/2 teaspoon ground nutmeg
2 tablespoons all-purpose flour
2 tablespoons sour cream, whisked
PREPARATION
Mix breadcrumbs and 1/3 cup stock in a small bowl. Set aside. Melt 1 tablespoon butter in a medium skillet over medium heat. Add onion and sauté until browned, about 10 minutes. Transfer onion to a large bowl.
Wipe out pan and return to medium heat. Add bacon and cook until crisp. Using a slotted spoon, transfer bacon to bowl with onion. (Reserve bacon fat.) Add next 8 ingredients to bowl with onion mixture, mixing with your hands to blend. Fold in breadcrumb mixture. Using a 1 tablespoon measure, roll meat mixture into balls; transfer to a rimmed baking sheet.
Melt 1 tablespoon butter with reserved bacon fat in a large heavy pot over medium-low heat. Working in 3 batches and adding 1 tablespoon butter between batches, brown meatballs on all sides, about 6-8 minutes per batch. Transfer meatballs to a plate. Drain all but 2 tablespoons drippings from pot. Whisk in flour until smooth paste forms. Stir in 2 cups stock; bring to a simmer, whisking often. Return meatballs to pot. Cover; simmer until meatballs are cooked, 5-6 minutes. Remove from heat, whisk in sour cream, and stir to coat meatballs.
These meatballs are juicy, light, and the flavor is off the charts. It's all about using the 3 different meats for this meatball recipe and soaking some bread in milk to help lighten the meatball texture. I like to sear these these homemade meatballs in a hot pan to help form a tasty crust before finishing them in some homemade marinara sauce. I
"These meatballs are significantly faster than a traditional recipe because there is no chopping or pan-frying for the base mixture and they are small, so they cook fast."
Ingredients
6 cups prepared the tomato sauce
1/2 cup dry bread crumbs
1/4 cup milk
1 large egg
2 teaspoons Italian herb seasoning
2 teaspoons olive oil
1/2 teaspoon garlic powder
1/4 teaspoon red pepper flakes
1 pound ground beef
1 pound ground veal
1 1/2 teaspoons salt
1/2 teaspoon freshly ground black pepper
1/4 teaspoon ground white pepper (optional)
1/3 cup finely grated Parmigiano-Reggiano cheese
Directions
Pour tomato sauce into a large stockpot and bring to a simmer over medium heat. Reduce heat to low to keep sauce warm while preparing meatballs.
Preheat the oven's broiler and set the oven rack about 6 inches from the heat source. Line a baking sheet with aluminum foil and brush lightly with oil.
Whisk bread crumbs, milk, egg, Italian herb seasoning, olive oil, garlic powder, and red pepper flakes in a small bowl to form a thick slurry. Set aside.
Combine beef and veal in a large bowl. Season with salt, black pepper, and white pepper; sprinkle with Parmigiano-Reggiano cheese. Pour in slurry and mix until combined.
Use a small portion scooper to form meat mixture into about 48 meatballs. Place on the prepared baking sheet.
Bake meatballs under the preheated broiler until browned, about 4 to 5 minutes. Turn meatballs and broil until browned on both sides and no longer pink in the center, 3 to 4 additional minutes.
Transfer meatballs to the stockpot with the simmering tomato sauce. Increase heat to medium and cook for 5 to 10 minutes, or longer if desired.
INGREDIENTS: ►bread (i used a sourdough baguette) ►shredded cheese - Monterey jack or mozzarella & parmesan FOR THE MEATBALLS... ►ground meat (i used beef, pork & veal) ►ricotta ►parmesan ►bread crumbs ►garlic powder ►kosher salt & pepper ►red pepper flakes ►minced parsley ►egg
FOR THE TOMATO SAUCE - https://bit.ly/2erL4Lj ►olive oil ►yellow onion ►garlic ►canned whole peeled tomatoes ►tomato paste ►balsamic vinegar ►red pepper flakes ►sugar ►dried oregano ►kosher salt & pepper
Ingredients
1/2 onion, chopped finely
7 shitake mushroom tops, chopped small
Small handful parsley, chopped finely
2 cup lentils, cooked
1/4 cup pecans, finely chopped
2 1/2 tsp garlic powder
2 tsp onion powder
1 tbsp nutritional yeast
Pinch red pepper flakes
1 tsp dry basil
1/2 tsp oregano, dried
15 Ritz crackers, crushed into crumbs
Other
1 cup all purpose flour
Oil for frying
Instructions
Add onion into a pan with a touch of oil and saute until slightly soft.

Add mushrooms and season with a pinch salt and pepper. Cook on medium high until lightly browned.

Place cooked lentils into a large mixing bowl and add in the onion and mushroom mixture.

Into the mixing bowl add in all the remaining ingredients EXCEPT for the flour and oil.

Mix well and lightly mash mixture with a potato masher to help the mixture stick together. Do NOT turn the mix into mashed beans.

Form mixture into heaping spoonful balls.

Roll balls into flour, and fry in a small amount of oil until golden brown.

Serve alone or with marinara sauce with pasta and ENJOY!